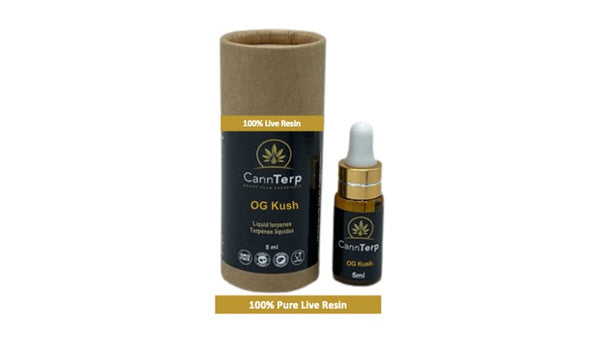 OG Kush - 100% Pure Live Resin - Strain Profile
Description: This classic, vintage OG Kush strain provides a mild earthiness with floral and cedar notes. This blend provides all of the quintessential Kush complexity, with notes of sweet fruit and gas overlayed with resinous, sour orange
100% Hemp Derived Terpenes
This product is truly unique, it delivers the most authentic and comprehensive cannabis aromatic and flavour experience out there.
Strain: Hybrid
Smell: Tropical, gassy, orange, resinous
Effects:  Calming, relaxing, social 
Terpene Blend: 100% Hemp Derived Terpenes. This product is extracted from fresh, live flowers and processed immediately after harvest
Terpenes do not contain any THC, CBD, VG, PEG,  MCT or any other additives.