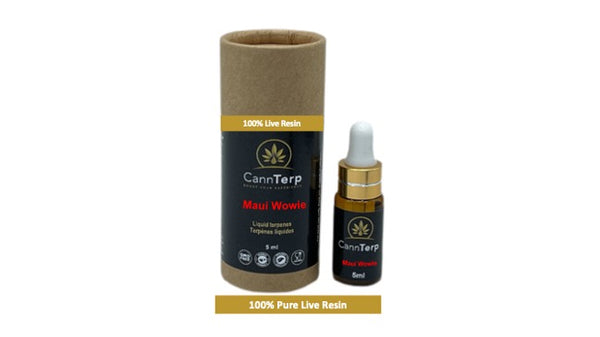 Maui Wowie - 100% Pure Live Resin - Strain Profile
Description: One of the classic 60's strains, this 100% Sativa landrace strain is brought back in its truest form. This profile has a citrus and orange base with strong tropical fruit overlay. A strong flavour and aroma of papaya, guava, and mango is overlayed with a creamy, sweet citrus finish. A very subtle earthy funk with petrol adds to the overall complexity, that elevates live resin to a truly unique ultra-premium experience.
100% Pure Hemp Derived Terpenes
This product is truly unique, it delivers the most authentic and comprehensive cannabis aromatic and flavour experience out there.
Strain: Sativa
Smell: Tropical fruit, cream, citrus, earthy undertones
Effects: Energizing, uplifting, stimulating
Terpene Blend: 100% Hemp Derived Terpenes. This product is extracted from fresh, live flowers and processed immediately after harvest
Terpenes do not contain any THC, CBD, VG, PEG, MCT or any other additives.