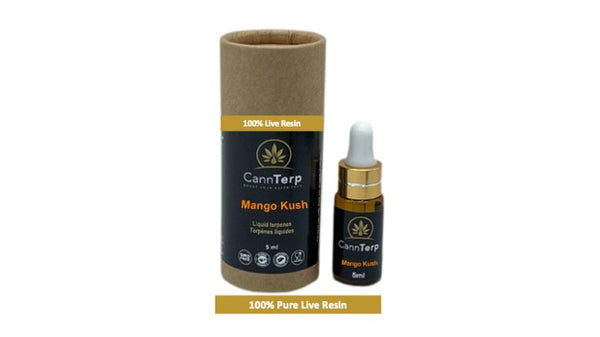 Mango Kush - 100% Pure Live Resin - Strain Profile
Description: A complex profile that is true to its name, this blend has your typical strong kushy base (diesel and gas) with fruit forward notes of mango and citrus, while finishing with subtle notes of baking spices (nutmeg and clove). This product provides a perfect interplay of flavours and aromas, to provide a truly unique experience that can only be provided by live resin.
100% Pure Live Hemp Derived Terpenes
This product is truly unique, it delivers the most authentic and comprehensive cannabis aromatic and flavour experience out there.
Strain: Hybrid
Smell: Funky tropical fruit, diesel, nutmeg, clove, citrus
Effects: Socially engaging, relaxing, giggly
Terpene Blend: 100% Live Hemp Derived Terpenes. This product is extracted from fresh, live flowers and processed immediately after harvest
Terpenes do not contain any THC, CBD, VG, PEG,  MCT or any other additives.