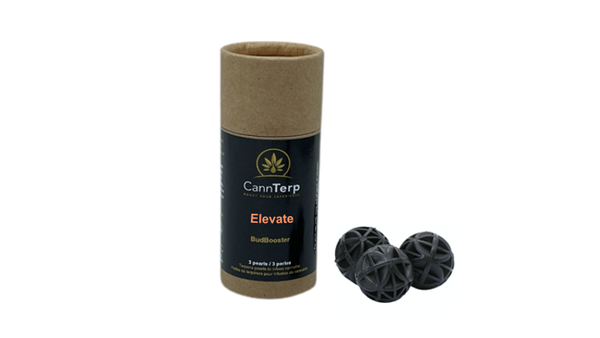 Elevate - BudBooster Infusion Pearls
Elevate – Limonene Dominant
Description: Elevate your senses with this uplifting blend of sweet citrus terpenes. This blend of sweet scents and tart fruit helps to create a social and energized feeling. Whether you plan on interacting with friends or going for a hike, enjoy notes of lemon, grapefruit and lime.
Smell: Citrus, skunk, sweet, sour
Effects: Energizing, sociable, uplifting, may help to relieve pain and inflammation
Boost your Experience: Hiking, Crafting, Cooking
Terpene Blend: Limonene, Terpineol, Beta Caryophyllene, Alpha Pinene, Beta Pinene  
How to use BudBooster Products: Place 1 pearl along with 3.5 grams of dried herb into a container and seal, add more pearls if desired. For best results, allow infusing for 24 hours before consuming the herbs. The terpenes  will begin to be infused after 1 hour, replace pearl after 1 month.
To enhance the flavour, scent and effects of your consumption experience. Tailor your high and boost your experience.