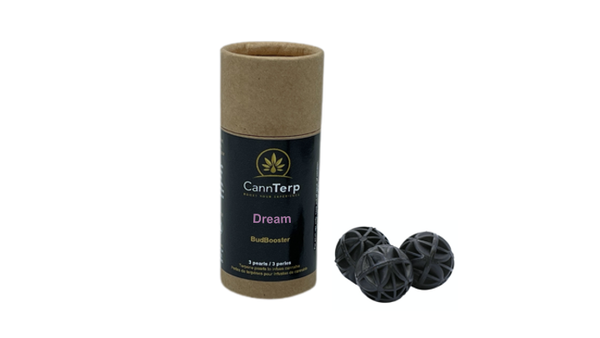 Dream - BudBooster Infusion Pearls
Dream – Linalool Dominant
Description: Have sweet (and spicy) dreams with this calming blend of terpenes. Tuck yourself in and experience a sedating floral and slightly spicy scent. Notes of lavender, coriander and sweet basil help lift your spirits and melt away stress.
Smell: Floral, earthy, spicy, sweet.
Effects: Sedating, elevates mood, stress relief
Boost your Experience: Sleeping
Terpene blend: Linalool, Terpinolene, Myrcene, Nerolidol, Gamma Terpinene
How to use BudBooster Products: Place 1 pearl along with 3.5 grams of dried herb into a container and seal, add more pearls if desired. For best results, allow infusing for 24 hours before consuming the herbs. The terpenes  will begin to be infused after 1 hour, replace pearl after 1 month.
To enhance the flavour, scent and effects of your consumption experience. Tailor your high and boost your experience.