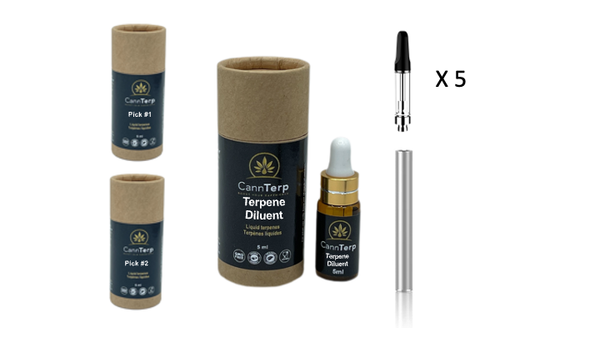 Cart Starter Package + Cartridges + Battery
This is the perfect starter pack if you are looking to experiment or new to making mixing terpenes and concentrates. This package includes everything you need to begin making your own cartridges. 
2 x 5ml - Tepene Strain Profiles 
1 x 5ml - Terpene Diluent - Viscosity 
1 x CCELL M3 Rechargeable Draw Activated 510 Battery
5 X 1.0ml CCELL TH2 Cartridges 
Our Terpene Diluent does not contain PG, VG, PEG, MCT, Squalane, Squalene, Coconut oil, Triethyl Citrate, or Vitamin E Acetate. It is made of pure terpenes.