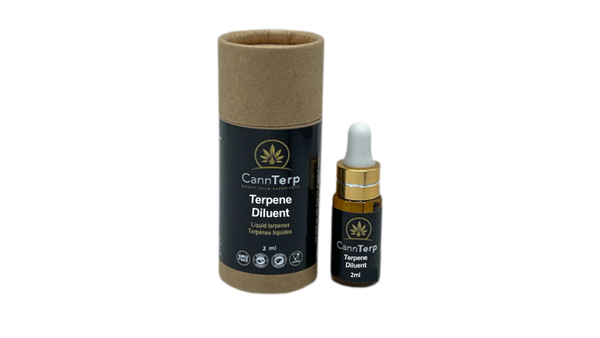 Terpene Diluent - Viscosity Agent
Terpene Diluent
Description: this extract diluent is an odourless and tasteless blend of terpenes. It can be blended with any extract to create the perfect consistency for vape liquid.
How to blend: heat your desired extract (rosin, shatter, etc.) over low heat until it is liquified. Slowly add up to 5-10 drops of terpene diluent for each gram/ml of extract used. Blend over low heat until completely combined and the desired consistency is achieved.
*We suggest to not exceed 5-10 drops per gram/ml, or 5-10 drops total combined of: liquid terpenes and terpene diluent, if blending with both*
Smell: Odourless 
Size: 2ml, 5ml, 30ml, 100ml 
Our Terpene Diluent does not contain any PG, VG, PEG, MCT, Squalene, Coconut oil, Triethyl Citrate, or Vitamin E Acetate. It is made of pure terpenes and is as odourless and tasteless as possible.